The seasons are changing where I live. Less sunshine, lots of rain, leaves on the ground, bare trees. It is that time of year as we move into the winter solstice. Days are shorter and the night is longer. Life in the neighborhood is quieter as people move indoors to enjoy the warmth of their homes. Some of the neighbors have done up their houses with Christmas lights which do sparkle the night time.
But, I can't help feeling that we rush past this time of year where we transition from fall to winter. I love Christmas lights and decorating, don't get me wrong. But something in me likes the quiet that comes with this transitional time. In my faith, we call it Advent. And I like to savor it.
I love walking outside at dusk and smelling smoke from the wood burning fireplaces in homes along the neighborhood.

I love the silhouettes of people through brightly lit windows.

Color changes in the landscape from bright autumn hues into earthy browns, golds, grays, dark greens.

Waiting for Christmas with excitement instead of having it now.

Savoring time instead of rushing through it.

Cozying indoors reading or watching something on tv.

Lighting candles one by one as the weeks go by towards Christmas, preparing for something new.

Anticipating the smell of evergreen that will fill the house.

Thinking about the people I will see together at the holiday with expectation.

Making memories now, today.
In the Advent of Change, it states
There is a freedom and beauty in this time of year to shed old skins, start fresh with new journeys and to return back, with childhood wonderment, to a place of memory and nostalgia of what holiday seasons and preparations can be.
I hope everyone has filled their bellies and laughed with the ones they loved this Thanksgiving season and that everyone has something they are shedding and something new they are on the precipice of beginning. Take time to sit in your own advent of change right now. What is the arrival of something important you are waiting for, the new project, new adventure, new journey you might be about to begin?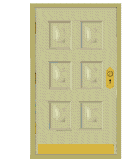 Yeah, that says it for me...opening one door at a time.
So for your enjoyment I have included web based advent calendars that will lead to some new adventures for you (and me). Enjoy the newness of beginnings with me. Find one that fits your interest and let's enjoy Advent.
This is updated to 2010 and lots of recipes for all baking levels.